Have You Thought About Publishing Your Own Zine?
With the National Zine Institute's
DIY Zine Course, you can now learn
how to self-publish from the comfort
of your living room, den or nook!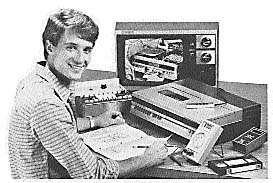 No more reading People magazine for me! Now I'm writing the stories.
Now I'm in control. Thanks for my new start in life NZI!
—Brad Metzer, NZI Grad and publisher of Cinnamon Raisin Oppression
If you're like most people, you've considered becoming a zinester at one time or another. And why not? Writing and publishing your own magazine is a fascinating and potentially lucrative hobby. It gives you a chance to be your own boss. To set your own deadlines. To edit your own work and execute your own layout. What other form of expression gives you the flexibility to work in your spare time or pursue your dreams on a full-time basis?

Everyone has a story to tell and the experiential material for zines is everywhere. Few people are aware that there is a worldwide dearth of viewpoints from overeducated people, from underemployed people, from semi-affluent middle-class heterosexual people and from white people, especially males. Quality culture is in-demand, and the desktop publishing revolution, coupled with information technology, has made creating and disseminating intellectual property easier than ever before.

Sharing your thoughts, opinions, ideas and artwork with others means you'll never have to sprawl deadbeat on a couch watching boring re-runs again. You'll be shaping your own destiny while gaining valuable self-confidence. The proliferation of speciality magazines, coupled with the rapid expansion of content delivery technologies have helped to create an unsatiable appetite for edgy and/or groundbreaking music, writing and imagery. Culture is being subsumed faster than ever before, creating unprecedented opportunities for zinesters to showcase their work to a financially appreciative audience.

If you fear your experiences are too mundane, or your ideas too tired, you're worrying needlessly. If you've ever had a bad job, or if you like weird music, politics or art, or if you have a wacky hobby or if you've taught English overseas, or if you worship unusual people, places and things or if you've ever had the label of "slacker" or "Xer" used to describe your lifestyle, then you've got the seeds of a zine that are eagerly awaiting the opportunity to blossom. Isn't it time you joined the booming culture industry that's easy to learn and fun to do?

If showcasing your talent on the world stage sounds exciting, then contact the National Zine Institute. Our shortcut training will show you how to mould raw potential into a finished product with less time, trouble and money than you might think. Our DIY Zine Course includes six volumes of our award winning instructional "how-to" books, plus a 90 minute motivational video, all for the low, low price of three installments of $29.99, a figure which includes shipping, handling and all applicable taxes. And for a limited time, those ordering the course will have an opportunity to purchase a Zine Machine at 40% off the suggested retail price.

Our books will teach you typesetting, cut and paste (both digital and manual) and editing PLUS full training in distribution and marketing. We provide profiles of successful publishers that inform and inspire. We provide the "eye of newt" needed to make "classic" topics like anarchism sparkle anew. We'll teach you to convincingly describe the life of a temp and the crass indignity of having to earn a living like everyone else. You'll learn the hottest skills in independent culture from the top zine industry leaders. Over two million zines have already been sold and demand continues to grow. Just ask Paul Lukas, author of the wildly popular zine Beer Frame. "I used to sweat over a hot Xerox machine at Kinko's at 3 am and now I'm in Spin Magazine! And I had a book of my writing published! And I'm on CNN!! Open your mind to the possibilities of zinedom."

There's never been a better time to produce zines than right now! People are so desperate for zines that they're willing to mail concealed cash to complete strangers to get them! The NZI can get you in on the action with convenient and effective at home training. Our DIY course delves deep into all aspects of research methods, zine theory, sociology, psychology, epistemology and philosophy, that will ensure that your zine education is well rounded and relevant.

Still not convinced that zines are right for you? Never heard the word before today? Then allow the NZI to help you make an informed decision. Simply fill out the coupon on this page to receive Volume One: The Wonderfully Crazy World of Zines absolutely free! Discover for yourself how exciting the world of self-publishing can be. Volume One contains a 100 page look into tomorrow and outlines the possibilities for a big new future for yourself.

Once you're ready to take the DIY plunge, phone our toll free number and we'll send you another volume every other month until you receive the complete set. These books will provide an in-depth focus on every aspect of zines imaginable. We've left no stone unturned in our efforts to present up to the minute information and crucial shortcuts. Our books are full of easy to follow instructions and clear, full colour diagrams that will ensure that anyone can do a zine. If you can write a complete sentence, or draw a smiley face freehand, you're well on your way to a future in self-publishing. Competing books and magazines like Re/Search, the Chip Rowe Reader, the Zine Guide and Broken Pencil provide limited resources and questionable inspiration. Only the NZI will tell you how to avoid paper cuts and navigate the dangers of the industrial stapler.

Remember, there's no risk or commitment—you can cancel at any time, and each volume comes with a 14-day, money back guarantee. Still undecided? Here's a quick look at the other volumes you'll receive on the way towards Do-It-Yourself heaven.

Volume Two: The Business of Do-It-Yourself, provides a primer on the various zine styles and topics and will help you acquire street cred within days, not months. Learn about Riotgrrl and Queer culture. Learn about personal zines and their glorification of minutiae and discover how mundane is too mundane. Learn about zines that contain artwork and text that refuses to follow any recognizable narrative or purpose. Learn about independent comics like Hate, Optic Nerve, Eightball, Acme Novelty Library and 19 other vital underground comics that no one actually reads or buys but always name checks. Discover how to dissect pop culture, independent films, pirate radio, thrift store fashion and antiquated technology.

As well, you'll learn about the behind-the-scenes machinations of the corporate culture mavens. In the Four Steps Toward Achieving Nirvana chapter, we'll show you how and why the mainstream takes genuine rebellion and authentic street trends and strips them of all context and meaning in an attempt to bleed dry "disenfranchised" suburban youth. You'll learn how to spot trends that won't ignite for a months or a few years —a staple trait of the cool and hip zine writer—and how to spot decayed goods. Honing your Zeitgeist antennae will ensure that you'll know when to get on the bandwagon and when to leap towards safety.

Volume Three: Corrective Ideology and Revolutionary Thought, explores the lifestyle choices that are often part and parcel of the zinester mystique. Did you know that some people who do zines don't eat meat? It sounds crazy, but it's true. Some zinesters don't eat dairy products either! They're called vegans. These and many other outrageous "alternative lifestyles" are explored in detail in this volume plus a crash course in indie and underground culture including Schwa, SubGenius, Negativland Vs. U2, The Baffler, Robert Dupree (KOOL Man) Vs. Craphound, Ben is Dead Vs. R. Seth Friedman, Burning Man, Joey Skaggs, the Cacophony society, William S. Burroughs (pre-Nike ad era), Dishwater Pete fooling David Letterman, Andre The Giant Has a Posse, Jack Chick pamphlets, culture jamming, piercings, tattoos, branding, Bob Flanagan, Mike Diana, Critical Mass, Food Not Bombs, hemp — wonderful, magical, environmental, parachute making hemp — workplace sabotage, conspiracy theories and Radio Free America. Plus a special section on the zine Answer Me! featuring four good and five great reasons to hate Jim Goad.

Volume Four: Music You Might Never Have Heard of Otherwise, explores the albums and limited edition red vinyl split-seven inches that aren't found in Walmart or Columbia record house catalogues. Learn about indie-rock, including Pavement lore, Sebadoh myths and mythology and a retrospective on living legend and alt-rock angel Steve Albini. Learn to pepper your speech with obscure bands without sounding awkward or ignorant. Learn which Guided By Voices albums are actually worth owning — it's fewer than you might think! Learn how to get a passing grade in math rock. Discover the eight noble truths of the holier-than-thou lifestyle. Learn to unlock the secrets of post-rock with the least amount of pain possible and make Stereolab and Tortoise less grating.

Finally, explore the non-indie rock world of exotica, swing, musical oddities and non-traditional musical formats, such as eight track cassettes.

Volume Five, Design Through Re-Integration, teaches you how to "borrow" layout ideas and copyrighted images and make them your own. We delve into the controversial question: "Is it ever possible to use too much 'ironic' imagery from the 50s and 60s?" We also examine Raygun magazine to try and answer the question: "How unreadable is hip? How unreadable is annoying?"

The overwhelming and perplexing multitude of fonts will be made understandable in our Font-tasia chapter. Which are the "good" and "cool" fonts? Which fonts are overused? What is the maximum number of fonts you should use per page? Per issue? Learn how to make typography work for you.

In the Punker Than Your Mother chapter, we'll examine Punk Planet versus Maximum Rock and Roll and every other punk zine as we debate the merits of legibility vs. illegibility. While poor Xerox technique may look easy, making a zine look truly ghastly is tough. As well, learn the paradox of Cometbus — too smart to be punk, too punk to care. Discover how to write about punk without alienating others with your intelligence and insight. Learn to spot the six kind of punk scenes and determine which one will best complement your lifestyle and aspirations.

Finally, Volume Six, Nitpicking Your Way To Glory, examines the dangers surrounding distribution, selling out, and the proper pronunciation of the word "zine." It also examines that darn apostrophe in a chapter entitled, Zine Vs. 'Zine. Learn the fine art of shameless promotion — how much is too much? Also provided is a twelve point diagnostic checklist to determine if someone or something has sold out.

As well, learn all about small press and zine fairs—what to wear, how to decorate your table and how to sell your zines to seemingly disinterested patrons.
The Zine Machine pictured here is able to precision craft over 12 zines an hour. It requires little maintenance while providing the highest quality output for its size and price range. The Zine Machine guarantees you years of self-publishing enjoyment for only pennies a page!
But your education won't end with mere books. Our videotape, Leaping the Hurdles features the NZI's patented "Take Action" motivational system that will inspire hesitant novices of all shapes and size. This high grade VHS tape is sent the moment you phone our toll free number and order our revolutionary system. This audio-visual guide contains daily affirmations that will teach you how to master the art of self-encouragement and self-discipline. The video is hosted by Ben is Dead publisher Darby Romeo who has distilled her 10 years of publishing experience and confidence into mantras such as:
I will finish this issue on time, even if that means getting out of bed before noon.

I will not extend my self-imposed deadline by more than two days at a time.

I will work on my zine during company time. I will abuse the office photocopier, fax machine, computer, stapler, laser printer and whatnot to produce my zine.

I will try to leave my apartment today.

I will kiss a girl or boy before I turn 21.
After you've completed your theory and practicum, you'll be itching to hit the start button on a photocopier and inhale the aroma of freshly minted pages. But if you live in a small town, or if you dislike facing the hassle of crowded copy centres staffed by bored cashiers wearing minimum wage smiles, then consider purchasing the final piece of the self-publishing puzzle — our patented Zine Machine. Made in the USA of stainless steel and graphite, this precision instrument will give you years of service. Competitively priced at $225, this investment will rapidly pay for itself.

Remember, the NZI commitment to your education is an ongoing one. It doesn't end when we cash your cheque or debit your credit card. Our website and 24 hour telephone support staff mean your questions and problems won't go unanswered. We want to help you succeed today and tomorrow.

With the recent death of zine bible Factsheet Five, who can you turn to for guidance and support? Who can show you how to understand the demographic profile of your zine readership? How can you be assured that your zine will get the right reviews, be reprinted in the right magazines and attain its full potential? Only the NZI can make it happen.
NZI: Putting the "you" in
Do-It-Yourself since 1989
---
This advertisement originally appeared in Ryan Bigge's "127 Days to Live." Email him for more information. Posted with permission.
---
return to main
external sites open in new window
report new or dead sites here